Staples Photo Printing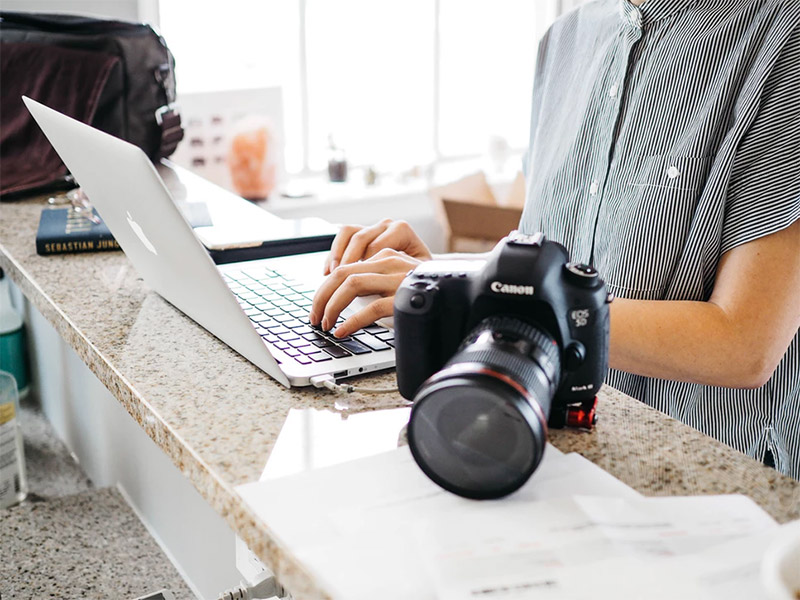 You may know Staples for its office supply selection and commercial printing services. But you should also be aware that Staples offers a variety of photo printing services. From cards to calendars to canvas wall art, you can turn to Staples print center for all your photo needs. Just follow these easy steps to get started with Staples online photo printing.
How to Order Prints with Staples Photo Printing
Set Up an Account on Staples.com
Upload Your Images
Select Print Options
Place Your Order
Many people turn to Staples Office supply products to equip their home and professional offices. But Staples Photo Printing is starting to gain wide acclaim. With business-quality printing and fast turnaround time on select products, Staples has become one of the best photo printing websites. You can turn to Staples for online photo printing or use the convenient mobile app to work on print projects on the go.
1. Set Up an Account on Staples.com
To get started, you'll need to create an account with Staples. The entire process takes just minutes to complete. Visit www.staples.com and click on "Account" and then "Create Account." Simply fill out the short quick registration form. You'll need to supply your email and create a password with at least eight characters. You'll also have the option to enroll in the Staples rewards program and opt in for email offers and deals. Once you complete those simple steps, you're ready to start using Staples Photo Printing.
2. Upload Your Images
Before you can upload your photos, you will need to choose the type of product you want to print. After selecting your product, select "Add New Image." You can then upload images from your computer, Google Drive, DropBox, or OneDrive.
Note that you can upload more than one photo at a time. After you click on the images you want, the site quickly completes the upload.
3. Select Print Options
With photo printing at Staples, you are using the same process that you use for printing documents. As a first step, select the "Copy and Print Services—color" option. For best results, use 100 lb. white card stock paper. Upload or drag and drop the image you want to print on to your page. Ensure that you leave the "Fit Content to Paper" checkbox unchecked if your print size is less than standard 8.5×11 paper size. With this approach, you can print standard 4×6, 5×7, or 8×10 sizes.
If you are printing larger photos, choose the "Photo Enlargements" option. This choice lets you print 11×14 or 20×30 images on semi-gloss paper. After you select photos, the site's tool will automatically adjust your file to fit the paper dimensions.
You can also use the "Oversized Color Prints" or "Same Day Poster" option for large-scale prints. Just follow the prompts to add and print your photos. If you have any questions, you can reach out to Staples customer service for expert support.
4. Place Your Order
Once you've created your print order, you can finalize your purchase. First, you'll need to approve your design. Be sure to double-check for any spelling errors if you've added custom text. You may be able to opt for same day pickup at a local Staples store. Not sure of your closest Staples location? Just search for "Staples near me" to find one.
If you need to opt for shipping, Staples offers ground, express, and expedited options. The price varies by delivery speed, of course. After confirming your delivery choice, you will navigate to the "Order Summary" page. That's where you'll enter a Staples photo printing coupon if you have one. Click on "Secure Checkout" to supply credit card details and complete your Staples digital photo printing order.
For pick up products, be sure to examine your order before you leave the store. Staples has a commitment to delivering high print quality and attentive service. If you have any issues with a photo print, a Staples team member should be happy to reprint them for you.
Staples Photo Printing Products
Staples offers a variety of printing products, including professional prints, custom greeting cards, calendars, wall art, personalized photo gifts, and more.
Photo Cards
With photo cards from Staples Photo Printing, you can celebrate life's memories—big and small. Whether you need a showy wedding invitation or a heartfelt thank you note, you can choose from a wide range of templates for cards and invitations. Holiday cards, birth and graduation announcements, and other standard and custom designs are available. And you can even upload your own card or invitation designs. With every order, you can choose between flat or folded 5×7 styles or flat 4×8 styles.
Staples Photo Printing center offers value-added options, such as glossy prints and back printing. And some designs let you choose between square and rounded corners. Every card an invitation order comes in sets of 25, with envelopes included. As an added bonus, some photo cards are available for same-day pickup at your local Staples print shop as long as you order by 2:00 PM.
Canvas Prints and Wall Art
Showcase your best examples of photography composition as the masterpieces they truly are with canvas prints and wall art. With Staples Photo Printing canvas prints, you receive professional-grade canvas stretched over wooden supports. Available in a wide variety of sizes, your gallery-look prints are the highest quality.
You can also select mounted prints that feature a thick foam board backing and black edges for visual appeal. Available in portrait or landscape orientation, mounted prints have a matte finish that makes them work well in residential or professional settings.
If you're looking for an eye-catching wall art style, try photo plaques. Featuring a frameless design and high-gloss finish, photo plaques exude sophistication. They also feature a scuff-free surface for enhanced durability.
Calendars
Looking for a fun and affordable way to put your photos to use? You may want to consider a photo calendar from Staples print center. With hundreds of designs available, Staples is sure to offer a calendar style that is perfect for you. Calendars also make good gifts for friends and family.
All calendars feature 12-month designs, but you can choose a custom start date. You'll need to upload between 13 and 40 photos, depending on the template you choose. Layouts feature between one and six photos per page.
With the provided calendar design tool, it's easy to create your own custom calendar to keep for yourself or share with loved ones. Staples photo calendar printing is a great way to express your creativity and enjoy your treasured photos the whole year through.
Photo Gifts
When the busy gift-giving season hits, don't fall into panic mode. Make your list and visit Staples.com to select from the company's portfolio of photo gift choices. You're sure to find the perfect present for everyone on your list.
You can celebrate the season with photo ornaments or design cozy photo blankets to stay warm on cold days. Know a coffee lover? Give them a reason to smile every morning with a custom photo mug. Photo coasters, mouse pads, and puzzles bring charm to any home. With personalized phone cases and tote bags, your friends and family can bring favorite images with them everywhere they go! Animal lovers will enjoy your best pet photography on any gift items from Staples Photo Printing.
No doubt about it: A visit to your local Staples for print services can take the stress out of holiday giving.
Commercial Printing Products
Staples is well known as a top commercial printer. Their professional and office products provide additional options for your photos. The company offers a wide selection of signs, banners, and posters that you can personalize with pictures. For example, you add a photo to a yard sign to celebrate a milestone, such as a promotion or graduation. It's easy to use a poster template for a personal design for your home too.
At Staples, you can also find unique items like business cards, magnets, flyers, gift cards, and printed folders. Although designed with commercial purposes in mind, a little creative thinking can unlock new potential ways to use your pictures.
Staples Photo Printing Pricing
Since Staples primarily focuses on business printing, its photo printing approach is different from many others. Instead of traditional prints, Staples offers documents, enlargements, and posters. If you are a serious photographer or an artist who sells prints of your work, Staples Photo Printing can be a good source for the high-end print copy quality you need.
For color printing, the cost for 8.5×11 inch documents starts at $0.56. Black and white printing starts at $0.14. Staples Photo Printing prices go up with higher paper quality and larger scale prints.
It's easy to save on your order. Look around the site for regular promotions and deals. And sign up for emails from Staples to stay in-the-know on the latest offers. A quick web search may also reveal coupon codes you can use to lower your order total.
Staples Photo Printing: Commercial Quality Printing for Everyone
If you're in need of photo services, be sure to take a close look at Staples Photo Printing. Designed with the commercial client in mind, Staples offers professional print quality to all its customers. Whether you're a professional who always shoots in RAW image format and edits images or an amateur with a smartphone, Staples can help make your pictures look their best.
It's simple to upload photos and use the site's intuitive tools to create your photo print products. A few clicks are all you need to design everything from photo cards to calendars to one-of-a-kind photo gifts. Wall art, enlargements, posters, and a wide variety of commercial photo printing options are available as well. And don't forget to use the Staples mobile app to create and print photo products from anywhere at any time!
Since Staples prints photos as documents, you may find Staples photo printing costs to be a bit higher than you'd experience elsewhere. But the fast printing turnaround time and exceptional quality make up for a higher price. If you order before 2:00 PM, Staples guarantees same-day turnaround for select printing products. Others may require a short processing time. Several delivery options are available so that you can balance cost with speed. Before you print photos or products, look for promo and discount codes to save on your Staples printing prices.
Whatever your photography needs, you can rely on Staples online photo printing. You can print exceptional quality images for your professional photography photo or enlarge favorite photos to hang on your wall. There's no end to the creative ideas you can explore when you use Staples Photo Printing. Visit the site today to explore print options and let your imagination take the lead.