Pure Inspiration – Joys of Travel Photo Contest 2012 Winners Announced
January 13, 2012
Results are in!  Congratulations to our photo contest winners.  Get inspired and find your next travel destination by perusing the gallery of entries from around the world.  Thanks to everyone who contributed.  Happy 2012 and safe travels in the New Year!
Tessa K. Hessmiller
Founder, Kutoa
Grand Prize Winner – Mark Boyle
Cable Beach Camels, Western Australia
Photographer's Description: Camels at sunset along Cable Beach in Broome, Western Australia. A beautiful sunset on a beautiful beach watching the camels stroll by is my idea of the perfect holiday moment.
Kutoa Judges' Comments: This photo captures a spectacular moment of the day and a surprising juxtaposition of desert animals at such a lush, watery location.  The photo exemplifies both joy for the photographer as a traveler in seeing this sight and joy for those traveling on the camels enjoying the view.
Mark won a 4-night trip to Sani Lodge, Ecuador, to explore the Amazon in a natural and sustainable setting.  Kutoa will donate 50% of all contest proceeds directly to Communidad Sani Isla, the indigenous community that owns and surrounds Sani Lodge, to fund education and other community projects in the Amazon.
Congrats Mark and safe travels in Ecuador!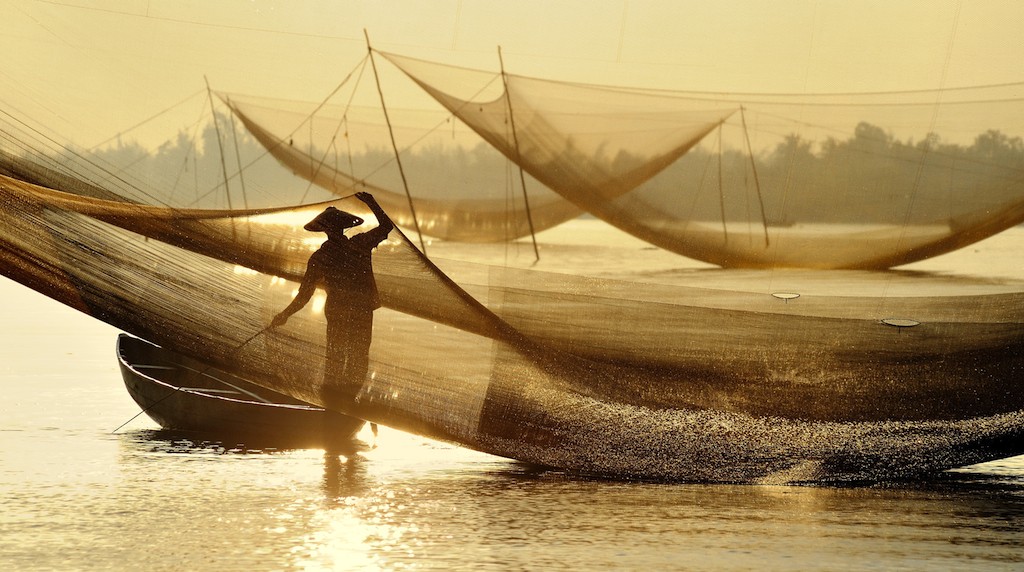 Grand Prize Winner – Ly Hoang Long
Fisherman, Hoi An, Vietnam
Photographer's Description: Fisherman visiting the fishing nets in Cua Dai beach – Hoi An, Vietnam. There are hundred of nets hang along that beach and that makes a fantastic scenery every morning. August 2011.
Kutoa Judges' Comments: This photo succeeds in taking what must be a mundane daily activity for the man who is the subject and portraying it as a serene, peaceful, and almost hypnotically breathtaking scene. This type of window into the life and culture of another truly exemplifies the joys of travel – finding the beautiful and uplifting in the daily sights and sounds of a place.
Ly Hoang Long won a 4-night jungle cruise in Borneo with Kalimantan Tour Destinations.  Kutoa will donate 50% of all contest proceeds directly to the Borneo Orangutan Survival Foundation, an Indonesian non-profit dedicated to the conservation of the endangered Bornean Orangutan and its habitat through the involvement of local people.
Congrats and have fun in Borneo!
Runners-Up and Honorable Mention
Also, congratulations to the following entrants for their incredible shots:
Runners-Up:
Erin Thomas – Trek on a Glacier, Argentina
Yen Baet – Venice Carnival, Italy
Ly Hoang Long – Three Champa Girls, Vietnam
Honorable Mention:
Jerry Paskowitz – Family on the Move, Vietnam
Alastair Swan – Cormorant Fishers, China
Ly Hoang Long – Boy on Bus, China
Ly Hoang Long – Elephant Race, Vietnam
Alastair Swan – Pemaquid Point Lighthouse, USA
Yew Kiat Soh – Joys of Kids, Malaysia
Arvid Fimreit – Extreme Western Bus, Norway
Halbert Bai – Dog Sledding, Alaska
Jonathan Baet – Burnham Overy Staithe Sunset, England
Kate Seibert – Colorful Worship, India
Marlyana Glynn Brown – Washing Man, Turkey
Ryan Kasak – Woman in Mexico
Trung Tin Ngo Nguyen Huynh – View of a Fairytale, Sapa City, Vietnam
View the entire gallery here.  Feel free to post comments and share with friends!