Polaroid Photography Tips and Tricks
January 25, 2017
As a photographer, it can be both fun and rewarding to experiment with various formats of photography, particularly using Polaroid cameras and film.
Not only do photographers love the Polaroid's nostalgic appearance and unpredictable nature, but the way in which images are instantly produced is also an exciting bonus!
Today we're going to talk about Polaroid photography tips and tricks, so whether you're a beginner wanting to try the format first-hand, or even a more seasoned professional looking to pick up some additional advice – trust us, you'll find all you need to know below!
Practice digital first
One thing you might already know about Polaroid film is that it is becoming increasingly rare, with packs of film for Polaroid cameras now costing a lot more than they used to! Therefore, it's important to make sure your basic knowledge of capturing great images is up-to-speed before you invest your money on the format. After all, who wants to produce unusable photos and watch their hard-earned dollars go down the drain?
If you're confident with your photography skills when using a DSLR or even an analogue / film camera, then go ahead – you're certainly ready to give Polaroid photography a go.
Get to know your Polaroid camera
This is the same advice you'd hear when using any other camera for the first time, however it's important to stress that a Polaroid camera is nothing like your SLR. There will be buttons and / or symbols that you've never heard of before, along with limited functions and differing requirements.
If you've purchased a Polaroid camera brand-new (for example, one of the modern Fujifilm versions or even one from Lomography.com), then chances are it will come with its own handy user manual. Be sure to read this first to truly understand the various camera functions and the process of successfully capturing a photo.
If your Polaroid camera is older (or perhaps was given to you, found in a thrift shop etc.) and a user manual isn't available, try searching your specific camera model on Google to see how it's done!
Lighting is everything
One of the aspects of Polaroid photography that most people tend to struggle with is lighting, along with the result of the photo being too underexposed or overexposed – a.k.a too light or too dark. You might be so excited to capture a stunning summer scene, only to have the image turn out so white that you can't make out your subject at all. Alternatively, an image standing under the shade of a tree might seem like a good idea at the time, but the final image may result in shadows so dark that you just can't make out the photo's content…so disappointing!
We've all been there, so it all just comes back to experience, common sense, and understanding your camera's light meter function (if it has one). The popular Fujifilm Instax models have a dial above the lens which contains several symbols to depict the level of lighting. A light will appear on the symbol that best matches the lighting conditions, according to the Polaroid camera (for example, cloudy, indoors, or sunny). You'll need to adjust your dial to appropriately depict your current lighting condition. Then, it's fingers crossed for a great outcome!
If your model doesn't have this option (or you simply don't trust your dial – it's not always correct unfortunately!) then this is where common sense comes into play. Avoid photographing subjects in direct sunlight and likewise it is best to avoid capturing photos in dark locations lacking in natural light.
Keep cropping in mind
Unlike other camera models, film cameras such as Polaroids usually can't zoom, therefore you'll want to ensure that you've already 'cropped' your scene in the viewfinder before hitting the shutter release. Get closer to your subject to zoom in more, or stand a little further back if you're having trouble fitting the whole scene into the viewfinder. Don't be afraid to play around with orientation too!
Experiment with different film
While film might be on the expensive side (it works out at about $1 per Polaroid photo at its cheapest), it can still be fun and worthwhile to mix things up with various types of Polaroid film. Sites such as eBay and Amazon have an array of exciting options, including everything from patterned and colored borders, to black and white or color-infused film.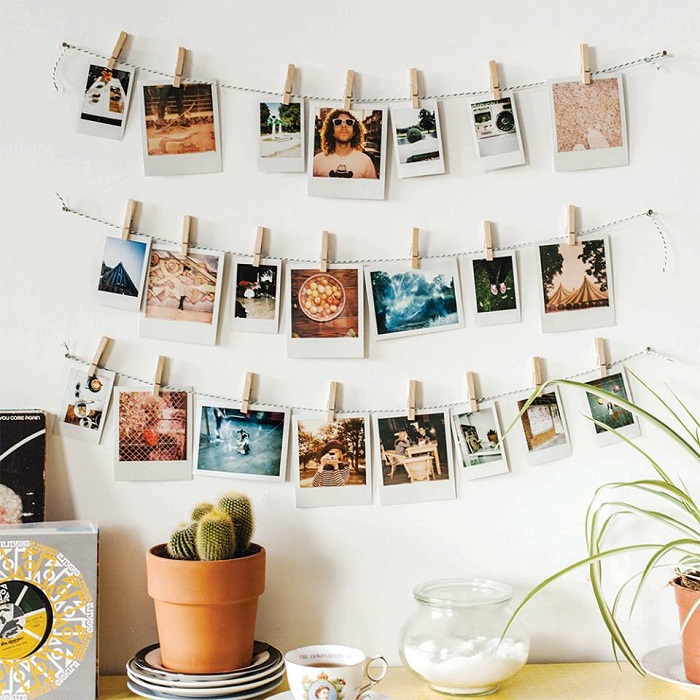 Get creative with your final result
One of the best things about Polaroid images is their small and portable size – depending on what size film you use, your images could be as small as a business card!
Rather than setting your photos aside to forget about over time, why not embrace them in a range of different ways? You can use your phone camera or other digital camera to capture an arty image of your Polaroid, or why not peg some up on string to use as a decorative photo garland? The opportunities are endless!
Will you be embracing the Polaroid this year? Be sure to keep these Polaroid photography tips and tricks in mind when you do!
Photographers and get email updates
-->