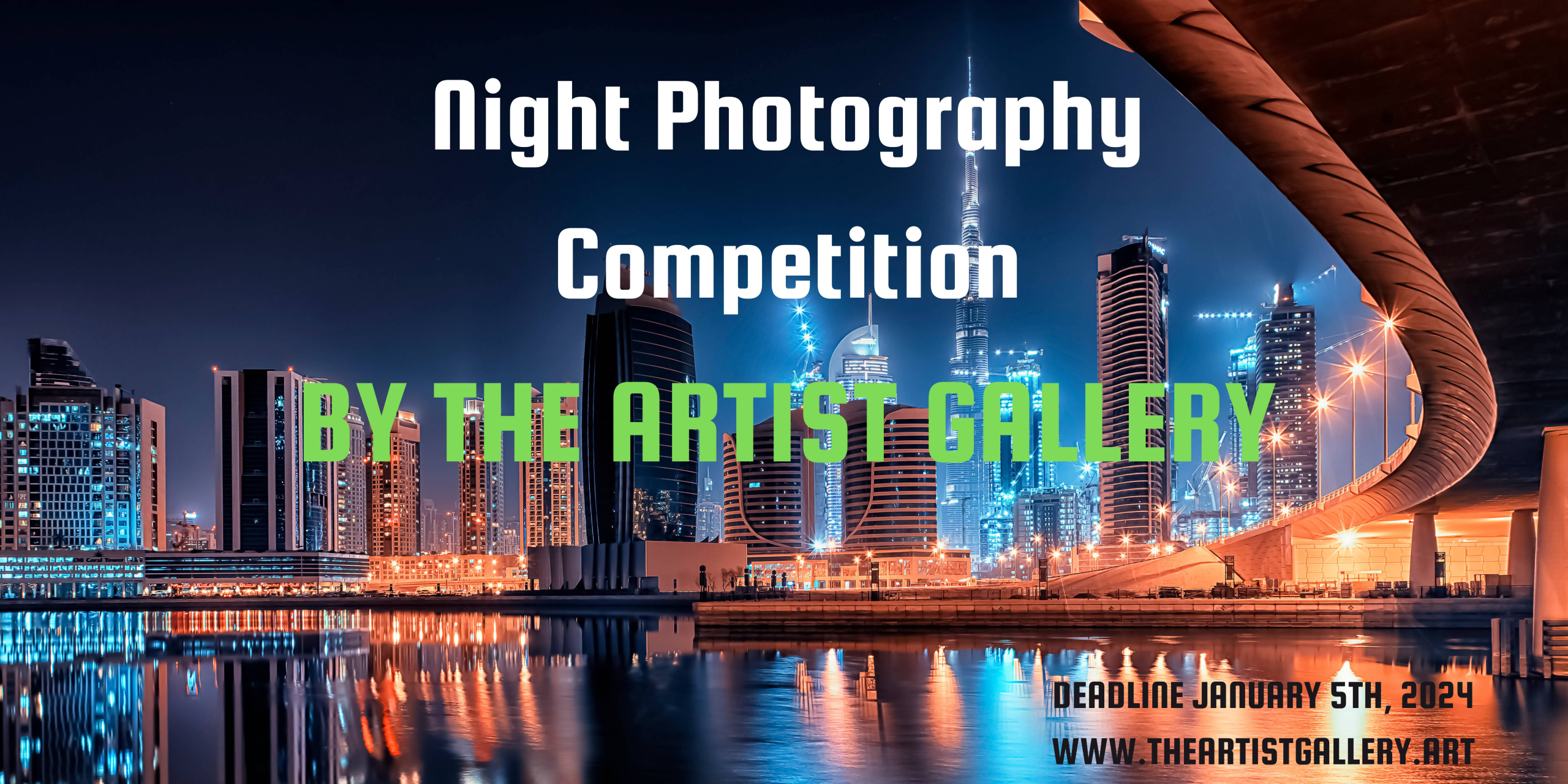 Night Photography Contest 2023 by The Artist Gallery
Imagine capturing the serenity of a moonlit forest, where trees cast long, mysterious shadows. Picture the cityscape aglow with the neon brilliance of skyscrapers, or the ethereal beauty of the Milky Way painted across the heavens.
The best 3 photos will receive a cash prize and we will write an article about the photographer's career, the best 25 will be promoted internationally. Be part of this great competition with your best shots. Get a better participation fee if you participate with more than one photo!!
Join us in celebrating the art of night photography, where each image tells a story of the nocturnal world. Explore the interplay of light and dark, and let your creativity shine in the quiet hours of the night.
Contest Prize & TERMS
PRIZE DETAILS:
1st place gets 15% of the money collected from the contest registration fees.
2nd place gets 10% of the money collected from the contest registration fees.
3rd place gets 5% of the money collected from the contest registration fees.
We will publish a blog about the photography career and aspirations of the best 3 photographers.
The best 25 photographs will be shared in our social media channels and our photo gallery.
Digital certificate for the best 25 photos.
Not eligible to enter? - Find contest where you are.
COPYRIGHT:
- The photographer will retain copyright of the photo and will be credited every time the gallery uses the photo.
- The Artist Gallery has the right to use the photographs submitted in our contests for any purpose related with the Gallery like exhibitions, share it in our web page or our social networks.
- It is the responsibility of the participant to ensure that the photo does not violate any copyright or trademark.
- If recognizable people appear in the photograph, it is recommended to have the authorization of the person portrayed to use the photo.
- The photographer agrees to be the author of the photo.
- The Artist Gallery is not responsible for any broken law by the photographer.
USAGE RIGHTS:
- Personal information shared with us when you apply for a contest is not shared with any third party.
- The Artist Gallery only keeps the 25 best photographs and the participant information for internal usage, the photos and photography names and location will be used publicly only to show it on exhibitions, our web page and social networks.
- All the other photos that were not recognized are going to be deleted two months after the contest has been closed.
Want to be updated about contests?
JOIN OVER 84,013 PHOTOGRAPHERS GET PHOTO CONTESTS VIA EMAIL FOR FREE
Just enter your email address below and click 'Get Updates'