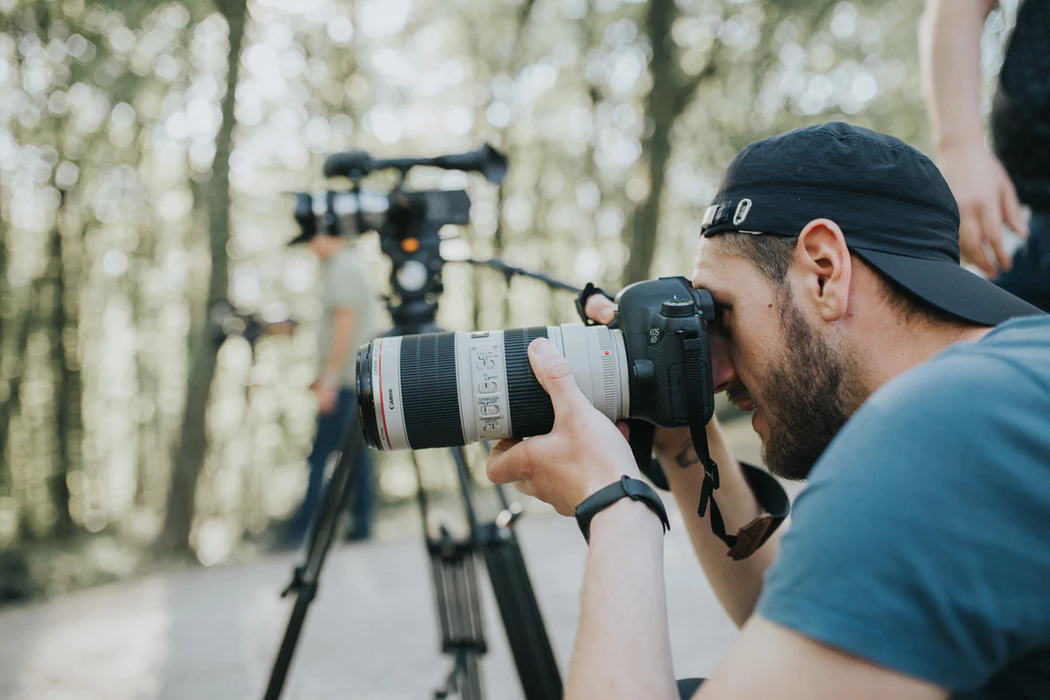 Best Photography Jobs: Where to Find the Best Photographer Jobs
September 29, 2022
Have you loved taking pictures from the moment you picked up your first camera? If so, you may want to explore a career in photography. There are many ways to break into the field, build your photography portfolio, and land paying clients or secure photography jobs. Learning about different types of photography is a smart first step. Here are some popular photographer jobs to consider:
12 Photography Jobs for Those Who Love Photography
Aerial Photographer
Commercial Photographer
Corporate Photographer
Event Photographer
Fashion Photographer
Fine Art Photographer
Real Estate and Architecture Photographer
Photojournalist or News Photographer
Portrait Photographer
Scientific Photographer
Travel Photographer
Wedding Photographer
Photography is all around us every day. We see photos hanging on the walls in homes, offices, and stores, featured on news sites, and making a statement in advertising. There are many paths you can pursue to learn how to make money with photography. If you dream of working as a freelancer or finding photographer jobs, it's a good idea to decide where to focus. This way, you can choose the right gear, training, and experiences to navigate towards your ideal photography jobs. Keep in mind that the average salary for a photographer is $32,000—but you can exceed that level with a dedication to your craft.
Without a doubt, there are many ways to get photography jobs. Before you become a full-time photographer, you may want to start with a part-time photography job. You could also pursue work as a photography assistant or photo editor. Through these roles, you can gain exposure to different types of photography jobs and find out which directions are best for you. You'll also gain extremely valuable creative and technical skills and insights on photography composition that you can carry with you as you pursue new photographer jobs.
1. Aerial Photographer
A relatively new specialization in the field, aerial photography is quickly gaining momentum. As an aerial photographer, your focus will be taking photographs from a point that is high above the ground. You may be operating a drone or aerial device with a camera attached or you could need to fly above the subject scene yourself.
Where can you find aerial and drone photography jobs? Look into work or freelance photography jobs with large real estate firms. Aerial photographs are a great way to show property details for overhead. Also, government agencies and the military hire aerial photographers to shoot land and site surveys.
To succeed as an aerial photographer, you will need some specialized training or education. Depending on the photography jobs you want to pursue, you may need postsecondary education through a technical school or an art school. You will also need certification from the Federal Aviation Administration (FAA) to operate unmanned aerial systems (UASs) or drones. The average salary for an aerial photographer is around $32,000 per year, but there is always the potential to earn more from these photography jobs.
2. Commercial Photographer
As a commercial photographer, the images you take will help set a scene or sell products. Instead of creating photos that line up with your artistic vision, you will need to represent the commercial interests of your employer or clients in your images. Photographers who pursue this line of work may focus on advertising or product photography, fashion photography, or food photography.
Good interpersonal skills are a must for all commercial photography jobs. You'll need to be able to listen to your clients or employers and apply your photographic know-how to bring their ideas to life. As a commercial photographer, you may find photography jobs with a product brand or creative agency. There are also plenty of opportunities to find success as a freelance photographer.
Having a two-year or four-year degree in photography can be a big career boost for commercial photographers. The national average salary range for this category of photographer jobs is $20,710 to $43,700.
3. Corporate Photographer
Corporate photography has some similarities with commercial photography. On corporate photography jobs, you may be called on to take product images for promotional purposes. But you may take on other tasks as well. These can include photographing corporate events for external or internal communications or shooting photos of executive or employees.
Education, creativity, and skill are key assets for a commercial photographer. While a degree can help you land your first photographer jobs, keeping a strong portfolio and networking will help you advance your photography career. The average pay for a corporate photographer is $35,700 per year, though salaries vary by location.
4. Event Photographer
If you have a knack for capturing the action at social gatherings, event photography jobs may be right for you. An event photographer is responsible for portraying the mood and scene at an event as well as capturing candid moments and posed photos.
To succeed as in event photographer jobs, you'll need to be able to handle high-pressure, fast-paced environments. Carefully plan a shot list, but also be flexible enough to capture the unexpected. Often, major companies hire event photographers to shoot at trade shows, conferences, and corporate events. For this reason, you'll need to be comfortable communicating with executives and corporate employees in all your photography jobs.
You can find event photographer jobs with some creative agencies or branch out on your own as a freelancer. Although average salaries are in the $30K range for event photographer jobs, talented and experienced freelancers can make between $200 to $500 per hour.
5. Fashion Photographer
Do the stunning shots of cover models on fashion magazine always catch your eye? If so, you should consider a career in fashion photography. Individuals in these photographer jobs know how to make models look their best in every shot.
Many fashion photographers have a bachelor's degree that helps them gain a foundation in the creative and technical skills needed for the job. However, some fashion photographers have technical degrees or have completed certificate programs. Persistence, passion, a strong portfolio, and talent can help you land photography jobs in the exciting world of fashion.
On average, fashion photographers make $59,000 per year. As you can imagine, top-name fashion photographers who work for major publications can make much more.
6. Fine Art Photographer
Fine art photographers are some of the most creative professionals in the field. They are constantly looking for new ways to be innovative and advance the craft of photography. Unlike commercial photographers, fine art photographers can bring their own vision and ideas for capturing images. Often, fine art photographers are most successful when they are able to portray emotions that are relatable to viewers in their images.
Many fine art photographers have honed their creative and technical skills by attending art school—but not all. Some talented individuals with strong photography skills may have learned on their own or by taking photography courses. Depending on the nature of their work, they may pursue photography jobs in a studio or work on location. Talented fine art photographers often receive commissions from patrons to advance their creative interests. While the average salary for fine arts photographers is $34,000, it's very possible to make much more with experience.
7. Real Estate or Architecture Photographer
The old saying "a picture is worth a thousand words" is very true in the field of real estate. Since many potential property buyers browse online before contacting an agent, these agencies need an excellent real estate photographer to help drive sales. Large real estate agencies may have on-staff photography jobs, but you can also find real estate photography jobs through agencies or as a freelancer.
Much like real estate agents, architecture firms rely on professional real estate photographers to capture the essence of their work. Architecture photographers can be called on to capture shots of everything from skyscrapers to urban renewal projects to home additions. You can play a vital role in helping an architecture firm build its portfolio—while you build your own.
Although a degree can help you land your first photography jobs, it's not a must for real estate or architecture photographer. A solid portfolio and some photography courses can be enough to help you get a foot in the door. According to national estimates, real estate or architecture photographer jobs have an average salary of $65,360—although wages vary widely by region.
8. Photojournalist or News Photographer
Some of history's most iconic photographs were taken by photojournalists. Working in the field of photojournalism and news photography can land you jobs with your local news stations or with a major publication. Photojournalist jobs are available with media outlets of all sizes, but many photojournalists are freelancers who contract with media organizations.
To be a photojournalist, you'll need skill at telling stories with photos. While you can have a shot list in mind when you cover a story, you'll need to be prepared to capture whatever happens. Many photojournalists have degrees in journalism, visual communications, or photography.
Salaries vary by the type of media outlet, but averages for photographer jobs come in around $45,000 per year. Have your sights set on a big-name publication like National Geographic? You should know that that publication pays its freelance photojournalists an average of $500 per day. Since many Nat Geo photographers travel to sites to take photos, they can make $5,000 to $7,000 for a single, multi-day assignment on location.
9. Portrait Photographer
If you love taking pictures of people, portrait photography may be a good path for you to pursue. While many portrait photographers are freelancers, you can find photographer jobs working for companies. And you don't have to limit your focus to portraits of people. The field of pet photography is growing bigger every day.
Many commercial portrait studios have photographers on staff to take every type of portrait photo—from baby photos to passport photos to corporate headshots. You should know that most companies prefer photographers in entry-level positions to have at least a high school diploma plus some specialized photography experience. You may also have access to training through these photography jobs. Corporate portrait photographers are often paid hourly and make an average of $32,000 per year. If you decide to freelance, you can set up a home photography studio with some basic equipment and hold photo sessions there.
10. Scientific Photographer
Have a passion for advanced photography techniques? Want to be on the leading edge of new scientific discoveries? Then a career in science photography may be right for you. You may find work as a medical photographer, forensic photographer, or pursue photography jobs in other science-related fields.
Scientific photographers help uncover hidden secrets in the world around us using techniques such as aerial photography, macro photography, or high-speed photography. Also, science photographers may use ultraviolet, infrared, or thermal imaging to photograph subjects.
Often, science photographers have a degree in science—such as biology or chemistry—but some may have a degree in photography. You can still find work as a science photographer without a degree, but competition for salaried photography jobs can be fierce. The current average salary for scientific and technical photographers is around $39,000, but freelancers have the potential to make much more.
11. Travel Photographer
Travel photography is an exciting career that is rich in possibilities. As a travel photographer, you play a direct role in attracting tourists to a destination, whether that is your own hometown or on the other side of the world. You can make money as a travel photographer by selling photos to travel agencies, tourism bureaus, and publications—or even through your own website. Another great idea is hosting destination workshops and tours where you guide guests to take photos of sites in a locale you know well.
Often, travel photographers get their start close to home. Photographers may shoot images of local events, tourist attractions, popular hotels or resorts, or scenery. Once you've built up some expertise, you can bring your camera with you on trips near and far to add to your travel photography portfolio. In time, you may land choice assignments to exciting travel destinations around the globe.
To get travel photography jobs, you should have at least a high school diploma. While two- or four-year degrees aren't always necessary, having educational credentials can help you get your foot in the door. The average annual salary for travel photographers is around $30,000, but successful professionals can earn over $60,000 per year.
12. Wedding Photographer
Weddings are among life's most joyful events—and photographers are often a key part of capturing memories of the happy day! Wedding photographers have to be collaborative and creative. They need to know how to pose subjects, take group photographs, and capture spontaneous moments. And they need strong skills in photo software and editing to make the bride, groom, and celebrants look their very best.
Often, wedding photographers work as freelance contractors, but some staff photographer jobs are available with creative agencies. Although you don't need a degree or specialized training in photography to get started, having some education can help build your credibility. Building a strong portfolio, while networking and marketing actively, can help you land photography jobs. The average salary for wedding photographers is around $44,000, but some experienced wedding photographers average over $100,000 each year.
Since weddings happen all the time, many photographers use wedding photography as a foundation to build their photography business—and then branch out into other photographer jobs over time.
Professional Photography Associations and Organizations
Joining professional organizations is an excellent way to stay on top of trends, network, build skills, and find photographer jobs. These associations give you exposure to the work of others, which can be a valuable source of photography inspiration.
You can also join organizations that host photography contests. Participating can help you learn what types of photographs resonate with audiences—and winning can be a powerful asset to highlight on a resume or portfolio website.
American Photographic Artists
Based in Los Angeles, California, American Photographic Artists (APA) has chapters throughout the United States. Its mission is to promote the field of photography and protect the rights and interests of photographers. APA welcomes photographers in all types of photography careers, along with photography assistants, students, and educators. Also, professionals in affiliated fields—such as visual arts, graphic design, and advertising—may join APA.
By joining APA, you can gain many valuable benefits. One benefit is a photo ID card that can help you expedite check-in at airports. Since photographers often carry equipment, this badge helps you secure discounts on excess baggage charges. You can also get discounts on Apple and other products and subscriptions.
American Society of Media Photographers
Founded in 1944, the American Society of Media Photographers (ASMP) is a leading trade association in the field of photography. ASMP provides education, business referrals, and publications for its nearly 7,000 members throughout the United States.
Becoming an ASMP member offers you many benefits. You become part of a thriving community of photography experts, including some of the most talented contemporary photographers. Also, you gain access to valuable insights on running a successful photography business, along with marketing tools that help prospective clients find and hire you. ASMP also offers valuable discount programs on photography equipment and access to wellness programs, including health insurance.
Photo Contest Insider
Photo Contest Insider (PCI) has earned stature as the world's largest source for online photography competitions. PCI offers an up-to-date listing of photo contests that are currently accepting entries. On the PCI website, you will find summaries of key information about each contest that are easy to read. This will help you sort through contests quickly and decide which ones are the best fits for your photography work.
It is completely free to join PCI. When you join, you gain access to the exclusive photo contest finder tool that finds contests for you. This valuable tool can streamline your contest research and help you stay on top of your submissions.
Photographic Society of America
A worldwide organization, the Photographic Society of America (PSA) promotes the art of photography and provides benefits to its members. PSA provides education programs, competitions, and study groups to individual members and has competitions for chapters and other member groups. In addition, PSA hosts online image galleries for members, provides opportunities for analysis and critique, and offers discounts on hardware and software products.
For young photographers, PSA holds an annual youth photography showcase. This event is open to all individuals of high school age who are interested in photography.
Professional Photographers Association
A non-profit organization with more than 30,0000 members, the Professional Photographers Association (PPA) aims to help photographers build profitable, sustainable businesses. PPA helps photographers bridge the gap between the art they want to create and the products that customers want to buy.
As a PPA member, you can access to a community of professional photographers and mentors who can help you grow your career. You can also attend in-person and online training to grow your skills, access valuable degree and certification opportunities, and gain product discounts. PPA also has an exclusive find-a-photographer database to help potential clients connect with you.
Other Photography Associations and Organizations
Many disciplines in photography have their own associations. These organizations can be great resources to build knowledge in a specific focus area and sources of information on photography jobs. Here are a few to know:
Advertising Photographers of America
The Association of Independent Architectural Photographers
The Association of International Photography Art Dealers
International Association of Architectural Photographers
International Industrial Photographers Association
National Press Photographers Association
Society of Sport and Event Photographers
Wedding & Portrait Photographers International
Wedding Photojournalist Association
Photography Gear
Many people who wonder about how to find photography jobs also wonder what kind of gear they need. Since every photographer job is different, gear needs can vary. But it's a good idea to have some basic equipment on hand. You can also use rental equipment for some photography if you don't want to buy all your own gear.
Cameras
When exploring photography jobs, many people ask, "What camera should I buy?" The answer experienced photographers give is that you don't need one camera—you actually need two!
Most working photographers need at least two cameras on hand at all times. That way, whether you are working in a photography studio or on location, you always have a back-up available for all your photography jobs. Typically, photographers opt for two of the same model of camera so that other parts, like lenses and batteries, are easily interchangeable. For many photographers, camera bodies from reputable manufacturers like Canon, Nikon, or Pentax will be perfect for their needs.
Lenses
With lenses, it is also a good idea to have several on hand for all photography jobs. This allows you to adapt to various shooting situations and conditions and have a back-up available in case something goes wrong. You don't need multiples of the same type available, however.
Lights
While a camera body is likely to have a built-in flash, most professional photographers don't rely on it. Instead, seek out an external flash unit—called a speedlight. With a speed light, you can control the direction of the flash so that it won't point directly at your subject and create unwanted shadows or glare. For a studio, you'll likely want up to three lights on light stands, along with lighting modifiers such as reflectors and umbrellas.
Tripods
Tripods provide the stability you need for many types of shooting scenarios and photography jobs. Often photographers use tripods when shooting portraits, landscape, or wedding photography. When shooting at night or in low light conditions, tripods lets you use long exposures while avoiding camera shape. When just starting out, a low-cost tripod should meet your essential needs.
Cleaning Kit
Dirt and dust can harm your camera body and lenses. It's important to learn how to clean your camera equipment so that you can avoid damage and unnecessary expense. Undoubtedly, investing in a cleaning kit is one of the most important purchases you can make. Good kits come with cleaning solutions, microfiber cloths, air blowers, and brushes to keep camera components clean for all your photographer jobs.
Camera Straps and Bags
While many cameras come with straps, they aren't always the highest quality. The straps may be small and uncomfortable for frequent use. Upgrading your strap can be very helpful as you pursue new photography jobs.
Having a camera bag is also very important. Make sure your bag is durable, comfortable for carrying and can hold your essential gear. You can opt for traditional models with a long strap or look for a backpack-style camera bag. And if you plan to carry a laptop so that you can edit photos on site, you can also find combination camera and laptop bags to make carrying all your gear easy.
Computers and Software
Taking photographs is just step one of the photography process. Today's most popular photographers and experienced pros are also skilled at editing photos during post-production.
At a minimum, you'll need a computer or laptop and some quality editing software. Adobe's flagship photo products—Photoshop and Lightroom—are the most widely used photo editing solutions. These tools let you edit in RAW format so that you can transform your images into photographic masterpieces.
Some photographers opt to print photos in their studio or office. But it's also a good idea to get familiar with the best online photo printing websites. That way, you can order prints and enlargements with ease for all your photography jobs.
You Can Find Photography Jobs Everywhere
Without a doubt, photography is one of the most exciting career fields to pursue. It can always seem intimidating to break into a new career field. But remember today's most esteemed professionals were once amateurs too. Through a combination of learning, dedication, and perseverance, you can find photographer jobs and grow your career.
One of the important first steps is deciding on your areas of focus. With so many specializations available—from commercial photography to art photography to portrait photography—you can't pursue too many directions at once. Decide where your passion and talent lie and use that as a foundation for finding first photography jobs. The wonderful thing about being a photographer is that there is always more to learn and new paths to pursue.
While many photographers have a degree or certification, formal education is not mandatory for all jobs with photography. Having a strong portfolio and building a reputation by sharing images on social media is an excellent way to showcase your talent. You can also break into the field by serving as an assistant photographer to an established professional photographer nearby. Try searching for "photographers around me" and connect with some people in your local area. You can gain experience and a reference that can be a major asset when you apply for your first photography job!
Many photographers operate their own businesses, but you can seek out companies that are hiring photographers. You can find photography jobs with top-name product brands, creative firms, newspapers or magazines, real estate agencies, or government and military agencies. If you can't get photographer jobs right away, seek positions as a photo editor or photographer assistant. Even weekend or part-time work with companies looking for photographers can be a stepping stone to the full-time photography jobs of your dreams.
Searching online is often an easy way to find jobs with photography. Use search terms like "photo jobs near me" or "part-time photography jobs near me" or "photographers wanted" can help you uncover companies hiring a photographer. If you're looking for a specific type of photography jobs, try a more specific search like "product photographer near me." And don't overlook the value of joining professional associations when looking for photography positions. Often, organizations offer networking and member directories that can help you make connections that can lead you to photography job openings. Associations may also have a job board or share job openings from companies looking for a photographer with members.
When looking for photographer jobs, you have many avenues to pursue to find job listings. Throughout your job search, keep taking photographers and building your portfolio. This way, you can continue to demonstrate that creative and technical skills and position yourself as a candidate for the best photography jobs.
A strong resume and cover letter are also essential when applying for job openings. Remember that many people start out with freelance or part-time photography jobs before landing cool photography jobs. Great jobs are available everywhere, so your efforts are sure to pay off with tenacity and hard work.