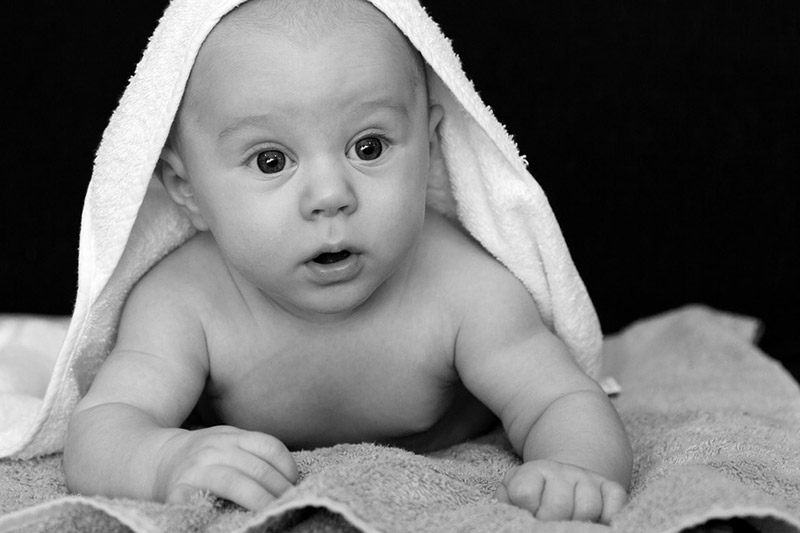 9 Baby Photo Contests to Enter Cute Baby Pictures
September 26, 2021
From their sparkling eyes to their cherub-like cheeks and sweet little toes, babies are adorable. Have you ever considered entering a baby photo contest to show off your favorite little one? It's easy. Many contests don't even charge any entry fee. Grab your camera, snap some precious baby pictures, and check out these great contests:
Gerber Baby Photo Contest
Baby Gap Photo Contest
Parents Magazine
New Parent Magazine Photo Contest
Our Cute Babies Photo Contest
The Baby Corner Photo Contest
Bidiboo Photo Contest
The Cute Kid Photo Contest
The Great American Photo Contest
You don't need to be a professional photographer to enter and win a baby photo contest. And you can be successful even if you're an amateur photographer. Taking a few free online photography courses can help you build foundational skills and set yourself up for success.
9 Baby Photo Contests to Enter Cute Baby Pictures
Many popular baby photo contests welcome or even limit entries to parents and guardians. Product brands, magazines, and online sites all over the world host baby photo contest events. Here are facts about a few popular contests, including what you may win and how to submit your entry. You may see your beautiful baby photos featured on social media, earn cash prizes, or even gain a modeling contract for your child!
1. Gerber Baby Photo Contest
What early childhood nutrition company is known the world over for having photogenic babies in its advertising? Gerber, of course. In 2010, Gerber launched its U.S. wide photo search events to find their newest little brand ambassadors.
If you know an adorable little one that could be the next Gerber baby, look for announcements about the baby photo contest opening up during the autumn each year. Gerber usually only allows a very short window for entries, so stay alert for details. Parents and guardians can enter the contest by posting a photo of their child on Instagram and using Gerber's designation hashtag. Note that Gerber accepts photos of babies between birth and four years old.
What happens if you win this prestigious baby photo contest? Gerber features the grand prize winner on its social media channels and awards the family a $50,000 cash prize.
Fun fact: The 2018 Gerber baby photo contest winner was a little boy with Down's Syndrome named Lucas Warren. Lucas posed for a photo with the very first Gerber baby Ann Turner just after she turned 91 years old!
2. Baby Gap Photo Contest
Although Gap doesn't host a regular Gap baby photo contest, there are opportunities for parents to submit pictures of their kids to the brand. If you think your baby has what it takes to be a model, check out the Gap Casting Call. Submission requirements and timelines may vary, so you'll need to be on the lookout for information. In the past, Gap accepted photos of children between one day old and 12 years old in a single category but also had a category for older children. Winners of the Gap Casting Call may have opportunities to model the Gap.
When this event is open, parents and legal guardians can submit photos online. Historically, Gap has preferred photos that are less than one month old at the time of submission. So make sure your photos are current. And Gap only accepts one photo per entrant. Full-body shots of your baby against a neutral background are also recommended.
3. Parents Magazine Photo Contest
A popular resource for parenting advice, Parents Magazine also hosts an annual magazine cover contest for babies between the ages of three months and two years old. To enter this baby photo contest, the child's parent or guardian must visit the magazine website and upload up to six photos of the baby. The announced winners receive an all-expense-paid trip to New York for a cover photo shoot, exposure on the magazine's website and social accounts, along with other prizes.
4. New Parent Photo Contest
Each week on its website, New Parent Magazine hosts a "cutest baby" contest. Parents and guardians can upload an image to the magazine's site for voting. Only registered users of the site can vote in each baby photo contest—and each user only gets one vote to keep the contest fair.
Weekly photo contest winners can move into the competition's semifinal and final rounds. A grand prize winner is chosen to be featured in an issue of the print magazine.
5. Our Cute Babies Photo Contest
At the Our Cute Babies website, you can participate in a monthly baby photo contest for kids age two and under. This free baby photo contest program runs from the beginning to the end of each month, but no entries carry over to the next month. You can enter as many cute baby pics as you want.
Our Cute Babies features several categories for entries, including siblings, favorite toys, messy kids, and action shots. Since you don't have to pay a fee, and it's easy to enter the contest, this can be a great first place to submit your baby pictures. Although you won't receive cash prizes if you win, you will see your cute baby pictures featured in Our Cute Babies magazine.
6. The Baby Corner Photo Contest
A website devoted to all things pregnancy and baby, The Baby Corner hosts a monthly baby photo contest. To enter, just visit the site and register for an account. Each monthly winner is chosen by popular vote by The Baby Corner community.
What do winners receive? The site features each winning photo on its home page during the month after it wins. After that time is up, the photo moves to the site's "winners page." And each winning baby gets a Fisher-Price toy or the cash equivalent.
7. Bidiboo Photo Contest
The Bidiboo website hosts monthly photo contests for kids of all ages. Some Bidiboo contests are only open to babies and young children up to age three. To join Bidiboo and post photos for competitions, parents must connect their personal Facebook account to Bidiboo. Entries are accepted from anywhere in the world.
Monthly winners receive a cash prize of up to $2,000. The Bidiboo community selects winners through voting on the site. You can vote for entries every 10 minutes, up to 10 votes per day for each entry. If you want to vote more frequently, you may be able to buy bonuses through the website.
8. The Cute Kid Photo Contest
The Cute Kid is a popular photo contest site for kids of all ages. Babies under one year old have their own special category. To join the baby photo contest, parents will need to create an account and agree to the terms of The Cute Kid website.
The entry fee per photo is $19.95. But don't let the cost deter you. Entering contests at The Cute Kid means that your child's photo will be seen by the site's judging panel, which may include professional photographers and modeling casting agents. The judges make awards based on charisma, appearance, expression, and the setting of the image. Make sure you brush up on your photography composition skills before entering this contest.
Each month, The Cute Kid offers a featured showcase contest. First-place winners in each category get a cash prize of $1,000, with four additional winners getting $500 each. Honorable mentions get a prize but do not receive a cash award. Also, the site hosts a monthly People's Choice, with winners chosen by popular vote.
Monthly category winners have the opportunity to compete to be an annual Grand Prize winner. The annual champion wins a trip to New York City and a $25,000 college investment fund.
9. The Great American Photo Contest
The Great American Photo Contest is one of the longest-running baby photo contests on the Internet. To submit photos or vote for your favorite photo, you'll need to become a member of the website. Winning photos are determined by a popular vote. Keep in mind that while you can enter up to six photos of your child, votes from multiple photos do not add together for one child.
At the Great American Photo Contest, you can enter monthly baby photo contests. The site only accepts entries from babies between the ages of birth to 48 months. As long as your child is in that age range, you can enter an older photo. You can submit any size photo in .jpg, .gif, or .bmp formats. However, you cannot submit enhanced or "Photoshopped" images to help ensure fairness for all entrants.
To improve your photo's chance of winning, you can invite family and friends to vote. Any U.S. resident over the age of 18 can vote in the site's baby photo contests. After you submit your photos, The Great American Photo Contest will send you a link that you can share with friends and family. Remind everyone who wants to vote that they must register and respond to the emailed registration confirmation—or else their vote won't count.
Entering Baby Photo Contests Is Fun and Rewarding
All parents are proud of their babies. What better way to share your pride than to enter a "cutest baby" contest? No matter your photography expertise, you can find baby photo contests to enter. It usually takes just a few minutes to send in your submission online.
You try your hand at weekly or monthly photo contests at first. Often, these types of cute baby contests use voting to select winners, so be sure to let everyone you know about your entry. Many weekly contests are free to enter, and some accept multiple photos. Even if you don't win, you can use these contests to learn about what kinds of cute baby photos resonate with a voting audience.
At first, you may be able to use your smartphone for baby photo contest entries. Over time, you may want to upgrade your skill and enter a more competitive baby photo contest. You'll likely start to wonder: "What camera should I buy?" You may find that an entry-level DSLR or mirrorless camera provides high enough quality and a vast improvement over your smartphone camera. Or, you may want to seek out a higher-end camera model. The choice depends on your photography expertise and goals.
While we've outlined some of the top baby photo contest options here, you should be on the lookout for other competition opportunities. A few brands have hosted contests in the past, such as Burt's Bees Baby Photo Contest, Johnson and Johnson's Baby Photo Contest, and Pampers Baby Contest. These contests may start up again, or a new baby photo contest may open up. It pays to do your homework.
Why should you enter a baby photo contest? You can do it just for fun and excitement, or you can focus on leveling up your photography skills. In some contests, modeling and talent scouts or casting directors may see your baby's photo, so there's a potential for a career for your child! Also, many contests offer amazing cash awards. Some contests offer different levels of competition with Grand Prize Winners earning tens of thousands of dollars, modeling contracts for their babies, or travel.
Best of all, you can gain bragging rights. What parent wouldn't feel great about their child winning a cute baby photo contest? Entering a photo of your cute baby into a contest can share the joy you feel when their face lights up with others around the world.
Photographers and get email updates
-->