Aerial and Drone Photography – 6 Tips for Capturing Pictures from a Bird's Eye View
Drone photography is gaining popularity—for a good reason. In the past, when photographers wanted to take aerial photos, they would need to ride in a helicopter or airplane. Now, with easy-to-fly drones available in the marketplace, anyone can explore the exciting pursuit of aerial photography. Just follow these proven drone photography tips to take photos that will win photography competitions:
6 Tips for Taking Aerial Shots with Drone Photography
Get a Photography Drone with a Rotating Head
Bring Along an Extra Battery for Drone Photography
Stay Low to the Ground for Aerial Shots
Follow Local Drone Photography Laws
Experiment with Subject Tracking While Taking Aerial Photography
Try Panoramas and Straight-Down Shots with a Photography Drone
While drone photography is commonly used in real estate to get overhead shots of property, there are countless other uses for drone photos. Business may use them to show the scale of their headquarters campus. Hobbyists may use photography drones to capture a birds-eye view of much-loved landscapes. And some couples choose drone wedding photography as a way to capture unique aerial shots of their special day.
Before you launch into your first drone photography session, there are a few things to keep in mind. First, you should know that most drones have built-in protective features that help prevent damage or crash landings. These include object-avoidance functionality and automatic return-to-home features. The latter will activate when the battery is low or when the craft loses connectivity to the drone pilot.
It's a good idea to learn to fly your drone before you attempt to take aerial pictures. You'll need to manage flight controls, photography settings, and compose your shot all at once. As you can imagine, this can require a learning curve.
Also, you likely won't achieve the same image quality and resolution with your photography drone as you would with a standard mirrorless or DSLR camera. Drone cameras are not as sophisticated—but many do give you some control over exposure settings. Fortunately, drone cameras are improving every year.
The good news is that many drones also let you take high definition videos. And you can take advantage of natural lighting and use good composition techniques to take high-quality drone pics. You can take breathtaking aerial images or videos that wow family and friends.
1. Get a Photography Drone with a Rotating Head
Many entry-level drones—widely known as "selfie drones"—have a fixed head. With that setup, you'll need to steer your drone in the direction you want your drone camera to point. This has some clear limitations.
Fortunately, there is a better solution. You can invest in a drone for photography with a rotating head, also known as a gimbal.
Why is this the best photography drone option? With a gimbal, the camera can rotate independently of the drone body. This allows you to change angles with ease so that you can capture perfect drone shots. You'll have much more flexibility to choose the composition of your aerial photography and achieve better results.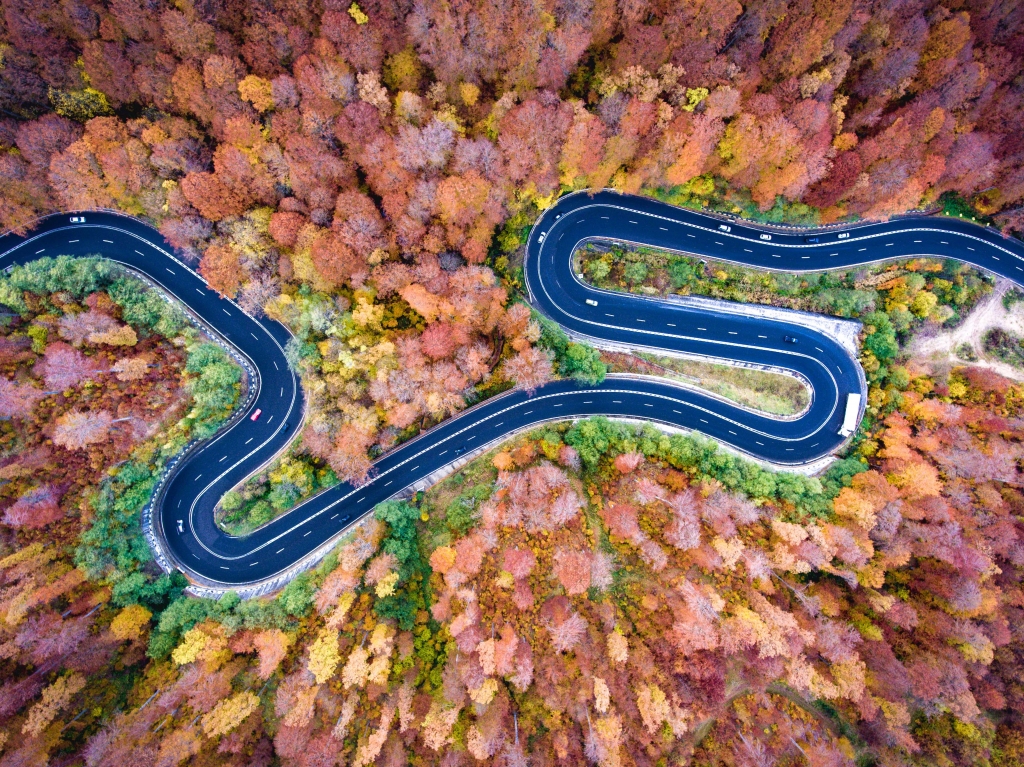 2. Bring Along an Extra Battery for Drone Photography
Once you've gained some familiarity with taking aerial photos, you'll want to explore new territory. Whether that means trying your hand at on-site real estate photography or taking photographs of a breathtaking landscape at a local park, you'll want to be prepared.
Unfortunately, drone battery life is quite limited. Most drone batteries only last for 20 to 25 minutes. Obviously, this can severely limit your flight time and compromise your ability to take overhead photographs.
Avoid this all-too-common problem by bringing along an extra battery—or even two extras. You'll gain much more time to take photos on location and give yourself more time to practice photography and video with your drone.
3. Stay Low to the Ground for Aerial Shots
While it may seem that you need to get high above the ground to take exceptional drone shots, this is not always the case. In fact, shooting still photos at a higher altitude often produces a less dramatic vantage point for landscape photos. A shot from too-high can leave the landscape flat and not accentuate compelling details—much like the view out of an airplane window.
When composing shots, you can achieve success by staying low and keeping a larger object—such as a grouping of trees or a building—in the foreground. This will give your viewers a good sense of scale and height because it keeps the foreground in focus while the background fades off into the distance.
Also, consider color and contrast when taking drone photos. For example, shots of a bright red barn in a field of green grass or a black road cutting through groups of fiery autumn trees can work well. Shooting at dawn and dusk can produce beautiful light effects and shadows that highlight the rise and fall of a landscape.

4. Follow National and Local Drone Photography Laws
A photography drone is a type of small unmanned aerial system (SUAS). As such, every drone—whether it's used for fun or business—is subject to aviation laws.
In the United States, the Federal Aviation Administration (FAA) does permit private citizens to use drones. However, all drone operators must abide by certain regulations. Importantly, you must register your drone with the FAA. Also, if you travel with your drone, you must pack it in carry-on bags, but never in checked luggage.
There are different rules for hobbyists and commercial drone pilots in the U.S. For example, a hobbyist must keep the aerial drone within visual line-of-sight at all times and not fly near other aircraft. Commercial drone pilots need to obtain remote pilot certification and keep their small unmanned aircraft under 400 feet and under a speed of 100 miles per hour.
Always research both local and national laws for piloting unmanned aerial vehicles. And be sure to seek out the correct certifications if you do start a drone photography business. If you bring your drone along on a trip to pursue travel photography, acquaint yourself with local ordinances. You don't want a preventable misstep like wandering into a designated no-fly zone to lead to unwanted legal consequences.
5. Experiment with Subject Tracking and Waypoints While Taking Aerial Photography
When learning about aerial drone photography, you can take advantage of other built-in features during photo shoots. One helpful feature is subject tracking. With this function, you can choose a specific subject and lock onto it with your drone. You can then move or swoop around that subject to view it from different angles. That way, you can take several shots from different angles.
Subject tracking is also useful when shooting a moving object—as you might do in sports or wildlife photography. And tracking is also very valuable when shooting a drone video. You can keep your subject in view at all times so that you never miss any action.
Also, take some time to learn about using waypoints in drone photography. You can set a waypoint by selecting coordinates to focus on a specific location. In addition to setting waypoints, you may also be able to set your flight path and hover duration for each waypoint with your aerial drone. This lets you keep track of routes and re-use them in the future.
Another advantage to using waypoints is that you don't need to worry about flying and can put your full attention on taking photographs with the built-in camera. This is a great asset for drone videography and photography alike. Waypoints allow you to take time-lapse images that show how a specific site or scene changes over time.
Waypoints have a wide range of commercial applications. In the construction industry, professionals use waypoints to survey a building project and monitor progress. Agriculture and conservation specialists can rely on waypoints to assess the health and growth in a specific environment. Real estate professionals can use waypoints to survey a property for sale. As you can see, understanding how to use waypoints can be a great asset if you decide to start a drone photography business.
6. Try Panoramas and Straight-Down Shots with a Photography Drone
You may have to experiment with different techniques to get the image quality you desire. If you find your landscape photos lack the desired resolution, try taking a panorama. Drones take the best photographs when they stay level and still. Use this to your advantage and take several shots that you can merge into a single panorama.
Another technique to try is shooting straight down. With this approach, you can achieve very dramatic effects. Look for striking patterns, vivid colors, on strong contrasts in the scene below. You may find you have the best results near the start or the end of the day, when the sun is low, since you can capture lovely shadows that provide more depth to your image.
Give Wings to Your Drone Photography Ambitions
Today, bird's eye view photography is more accessible than ever before, thanks to the improvements in drone technology. Even if you buy a good-quality camera, you can't achieve all of the breathtaking shots an aerial drone can offer.
Before you get started, make sure you are fully aware of current laws on flying an unmanned aircraft. Take some time to practice flying before you head out on a photo shoot. It helps to have confidence with flight controls before you try to manipulate the camera. In time, you can learn about setting waypoints and letting your drone navigate to a particular point. That lets you focus on taking photos, not steering your drone.
When you seek out the best drone for aerial photography, be sure to select one with a rotating head. This lets you maneuver your built-in camera independently from the drone body to capture photos from more angles. An extra battery is a must for any on-location photo shoots since standard drone battery life runs less than an hour.
During your photo shoot, you may find you don't need to send your drone high into the air for good shots. This can be especially true for landscape vistas. A high-enough angle with a large foreground object can provide a dramatic perspective. At times, straight overhead shots can work well—if you can create a compelling visual composition. Panoramas are another good option for landscapes.
Many people pursue drone photography as a fun pastime, but there are many professional opportunities as well. Drone real estate photography is a huge area of need, and aerial mapping photography is an important field. If you want to start making money as a photographer, aerial drone photography can take you in many new directions. The need for drone photography services is on the rise and not expected to slow down any time soon.
If you have any interest, you can start with an affordable drone for beginners and grow from there. Drone technology is always evolving, with new models and features regularly entering the marketplace.
Chances are, you'll be hooked after your first drone flight and look forward to more high-flying photography sessions. Viewing the world from above can feel magical. Drone photography lets you capture that magic and share it with others.